Back To Basics
A three-hour Webinar on essentials of successful violin playing.
OCTOBER 17
17:00 CET /5pm  Paris time
prof.Violeta Smailovic-Huart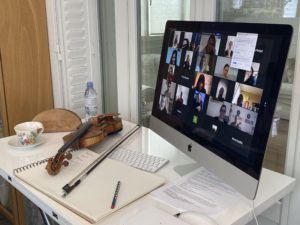 For whom?
For any string player willing to get back in shape at the beginning of the school year. This webinar is primarily  designed for violin players (students, performers, teachers). Yet, anyone playing a string instrument benefits from this lecture, as it provides highly inspirational and pragmatic advice that has proven to improve your comfort on the instrument.
What is this webinar about?
It covers most of the areas that we find crucial for successful playing:
The importance of "WHY" – motivation is the key. How to find it?
Organization of practicing

 

School of great sound
Main bow strokes and

 

"choreography" of the bowing technique
Building of confidant left hand shifting

 

Listening and stabilization of the intonation

 

Great practicing strategies for double stops
Secrets of successful chords
Vibrato
Conceptualization of your performance (be it an etude or a concerto)
STAGE FUN (not stage fright!)
How to prepare for the "BACK TO BASICS" Webinar?
Have a notebook and a pencil, as we will share some important information that you might want to remember
You can be passive participant (only listen) or active participant (prepare a small fragment of a piece you are working on to discuss/improve one or more of the above mentioned areas of your playing. It could be an etude with shifts, any cantilena for a vibrato, or a virtuoso piece etc).

 

If you would like to play at the webinar please after applying send us an email to info@musiconthestring.com with the name of the piece and problem you would like to address*
The price?
50 Euros (active and passive participants)
*we will accept up to six active participants for a webinar.
**We understand the hardship that many of the households and individuals are experiencing due to the covid 19 crisis. Please contact us if  you need financial assistance for this webinar.
50,00€
Availability: In stock